Thanks to Random.org and all the awesome people who joined the giveaway, we have a winner! Luckily, the number wasn't too high because I had to count the comments (and double check of course) to find the winning entrant. I know it's kind of pathetic. If anyone knows how to number comments on Blogger and would like to send me a link with the info, I would really appreciate it!
Alright, now back to the winner. It is: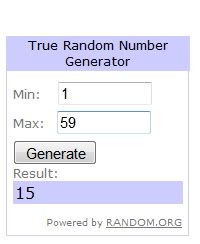 Geri from HeartNSoulCooking! I'll be emailing you, Geri, with the info on getting your $25 to CSNStores.com!

If you like my blog, take a second and please vote for me just by clicking this link, and Top Mommy Blogs will know you were directed from my site. Thanks!
Please do not copy any text or photos of my family, especially Cady. Links to my posts are always welcome.
Thanks for installing the Bottom of every post plugin by Corey Salzano. Contact me if you need custom WordPress plugins or website design.