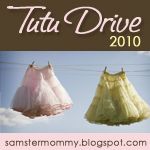 One of my favorite bloggers, Samster Mommy, is holding a tutu drive for the Princess Alexa Foundation. The organization was started by Crys, in honor of her daughter, Alexa, who died of cancer two years ago. Alexa loved playing dress up and finding joy through imaginative play during her illness and became known as, "Princess Alexa." As a mommy myself, just thinking about it chokes me up. The Princess Alexa Foundation now brings the joy of imaginative play to other seriously ill children, and Samster Mommy's goal is to send them 100 tutus next month. She's going to need some help, so buy and make tutus or any other dress up items. There are lots of easy to sew or no sew tutu tutorials online and some great websites to purchase inexpensive tutus for as little as $2 each!
TUTORIALS
Samster Mommy's Ten Minute Tutu
Samster Mommy's Ice Princess Tutu
INEXPENSIVE TUTUS
Halo Heaven
Thanks for installing the Bottom of every post plugin by Corey Salzano. Contact me if you need custom WordPress plugins or website design.